OFFICE chair racing has been added to the Tralee Food Festival event programme with well-known names competing in support of Kerry Mental Health Association along The Mall, Tralee from 2pm on Sunday 21st May.
While food lovers are milling into their Taste Trail treats, they can enjoy watching the Mayor of Tralee, local gardaí, an Olympic rower, a Kerry Senior Football Manager and others scramble for success on their office chairs.
In fact, the return of a fun event such as the Office Chair races provides the organisers with the perfect 'vehicle' to drive home the importance of workplace wellbeing and healthy eating.
The General Manager of Kerry Mental Health Association, charity partner of Tralee Food Festival, said: "We spend so much time every week in our office chairs – at home or in the actual workplace – that we sometimes forget to take time out and look after our mental health. Most people with mental health challenges live productive and positive lives while managing the challenges. A recent workplace survey with 900 respondents showed a significant need for mental health support at work with both employees and employers agreeing that their job can be a direct challenge to their mental health. This event will help shine a spotlight on the importance of minding our own mental health and that of our colleagues at work as much as anywhere else."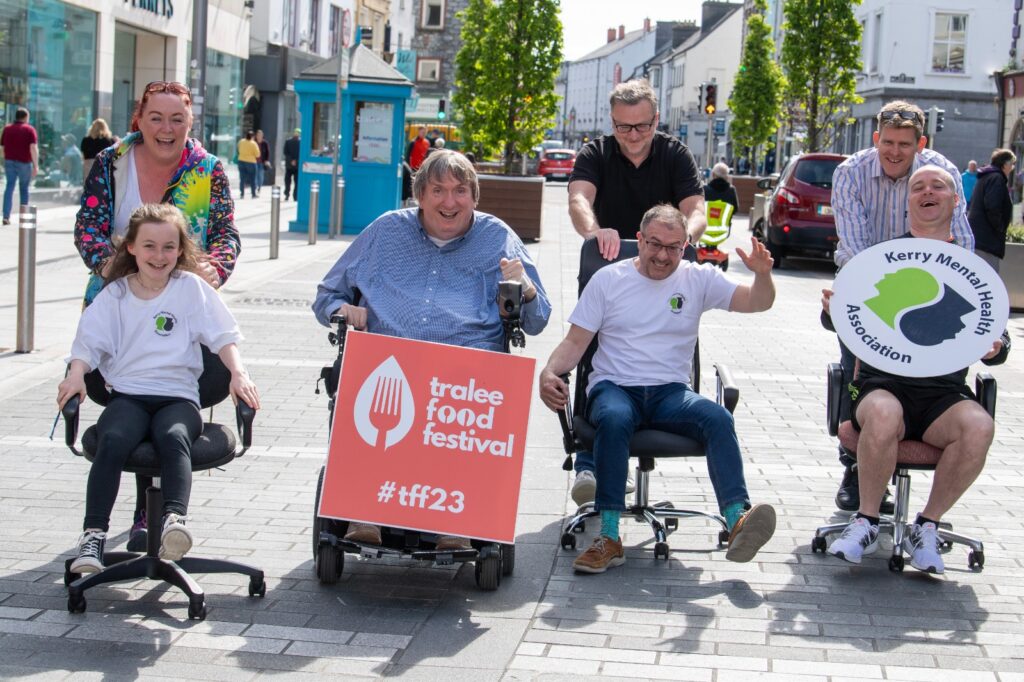 The participants who are planning to give their time to race on the office chairs are:
Mayor of Tralee, Cllr Mikey Sheehy; Deputy Mayor Cllr Terry O'Brien, Cllr Deirdre Ferris and Cllr Cathal Foley; Tralee Chamber Alliance President, Nathan McDonnell; 4-time All-Ireland winner and first Dancing with the Stars Champion, Aidan O'Mahony; Olympic rower, Monika Dukarska; Joint Kerry Ladies Senior Football Manager, Declan Quill; Garda Mary Gardiner; and Garvey's Tralee Warriors Captains (past and present), Darren and Fergal O'Sullivan.
There may be an opportunity for members of the public to take part at their own risk to help support the Kerry Mental Health Association in its mission to promote mental wellbeing.
The racers have been sponsored by some generous local businesses to whom the organisers are most grateful: Kirby's Brogue Inn, MJs Diner, Jam Café Manor West Retail Park, Tuk Tuk Street Food Manor West Retail Park, Office & Ink, Dan Fitzgerald & Sons, Paddy Macs Pub, Tralee Chamber Alliance and Lakeside Café at Tralee Bay Wetlands.
Ken Tobin from the Tralee Food Festival Organising Team said, "We are delighted to choose Kerry Mental Health Association as our charity partner. There is so much to learn every day about the importance of exercise and a healthy diet when minding our mental and physical health. Kerry Mental Health Association is leading the way in this area by organising or provide financial support for various therapies that may be helpful to people in our communities with mental health challenges, their families and carers. We hope that everyone comes out to enjoy the fun of the Office Chair Races in Tralee on Sunday 21st May."
Kerry Mental Health Association will be placing collection buckets at each of the pubs, restaurants and cafés participating in the Tralee Food Festival giving customers an opportunity to make a donation over the weekend.
The people who volunteer with Kerry Mental Health Association do so in a variety of ways, including:
Befriending
Visits to mental health service users who are in hospital or at home
Attending day centres to assist social activities
Trips and outings to the cinema, theatre, tourist attractions, scenic areas, and shopping
Christmas parties, birthday parties, hampers, and gifts
Helping to secure grants to cover expenses associated with the needs of people in our community with mental ill-health
Donating time and professional expertise for various fundraising/promotional/administrative needs
Kerry Mental Health Association's branches also organise or provide financial support for various therapies that may be helpful. Many of the services are provided in the various local HSE-run Day Care Centres throughout the county. For more information, visit www.KerryMentalHealth.ie or contact [email protected].