KERRY Mental Health Association has a solution to help home bakers cope with one of the most stressful aspects associated with preparing for the Festive Season – the Christmas Cake!
The charity has collaborated with Master Baker Oliver Hurley to present a video demonstrating how to bake a delicious Christmas Cake without the stress AND there's also a chance to WIN the cake.
Please donate and guess the weight of the cake at iDonate.ie | Support Christmas Cake before Tuesday 21st December for a chance to win the cake AND the €20 note that's been hidden inside!
The General Manager of Kerry Mental Health Association, John Drummey, said: "The theme of the Christmas Cake, as you'll see from the icing on the cake, is based on our continuing promotion of the 5 Ways To Wellbeing – Connect | Be Active | Take Notice | Keep Learning | Give. The video demonstrates how easy it can be to bake a cake for family and friends to enjoy over Christmas. We hope that some people will go to the fundraising page to donate and guess the weight to have an opportunity to taste how good Oliver's cake is!"
Oliver Hurley, an award-winning theatre director and owner of the Oliver Hurley School of Musical Theatre, turned to baking during the lockdown as a means of looking after his mental health.
Oliver, who developed Olly's Delights and the end of 2020, said he has baked hundreds of cakes over the past few months: "People panic when they think about baking at home and they think it's going to take too much time. It actually doesn't and the secret is to have everything ready before your start. Have everything laid out – ingredients and utensils – and the mixture will be ready to go into the oven after 15 minutes. The key is preparation because it takes the stress out of baking the Christmas cake two or three weeks out giving you time to concentrate on the shopping!"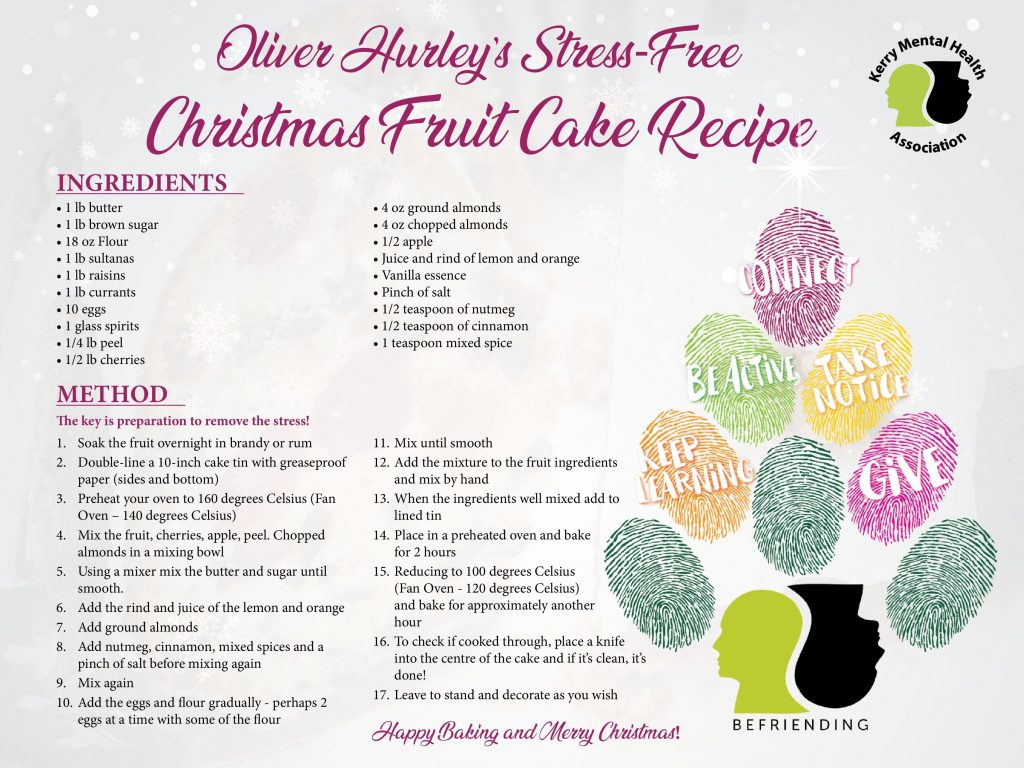 Watch Oliver's Christmas Cake Demonstration video on YouTube while the fundraising campaign to donate and guess the weight of the cake runs until Tuesday 21st December.
All proceeds raised will go towards supporting the befriending and other mental health promotional activities undertaken by Kerry Mental Health Association.
The video was recorded and edited by Finbarr O'Donovan, a Final Year student of TV, Radio and New Media at Munster Technological University in Tralee.
If you or someone you know is experiencing a personal crisis, is unable to cope and needs support, text HELLO to 50808. If your life is in imminent risk, call 112 or 999 for emergency help. Details of other resources are available from Local Supports – Kerry Mental Health Association.