KERRY Mental Health Association has announced details of the second #TieDayFriday which will take place on Friday 8th April 2022.
Everyone in Kerry will be asked to wear a tie – preferably the most outrageous or colourful tie they can find – post a picture or video of themselves online and make a donation to Kerry Mental Health Association CLG (idonate.ie).
The funds this year will go towards the cost of training instructors to facilitate the delivery of free community-based Mental Health First Aid (MHFA) Classes in Kerry.
The General Manager of Kerry Mental Health Association, John Drummey, said: "Mental Health First Aid is the initial help given to someone who is developing a mental health problem, experiencing a worsening of an existing mental health problem or a mental health crisis. The first aid is given until appropriate professional support is received or until the crisis resolves. Through our ongoing engagement with business and community groups in Kerry, it is apparent that many people are not well informed about how to recognise mental health problems, how to respond to the person, and what supports are available."
The generosity of Kerry people during the first #TieDayFriday last year was overwhelming with approximately €17,000 raised to support the befriending and other mental health promotional activities undertaken by Kerry Mental Health Association.
A similar level of support this year would fund the provision of four Mental Health First Aid Trainers and eight Mental Health First Aid Classes for up to a total of 160 participants (20 per class).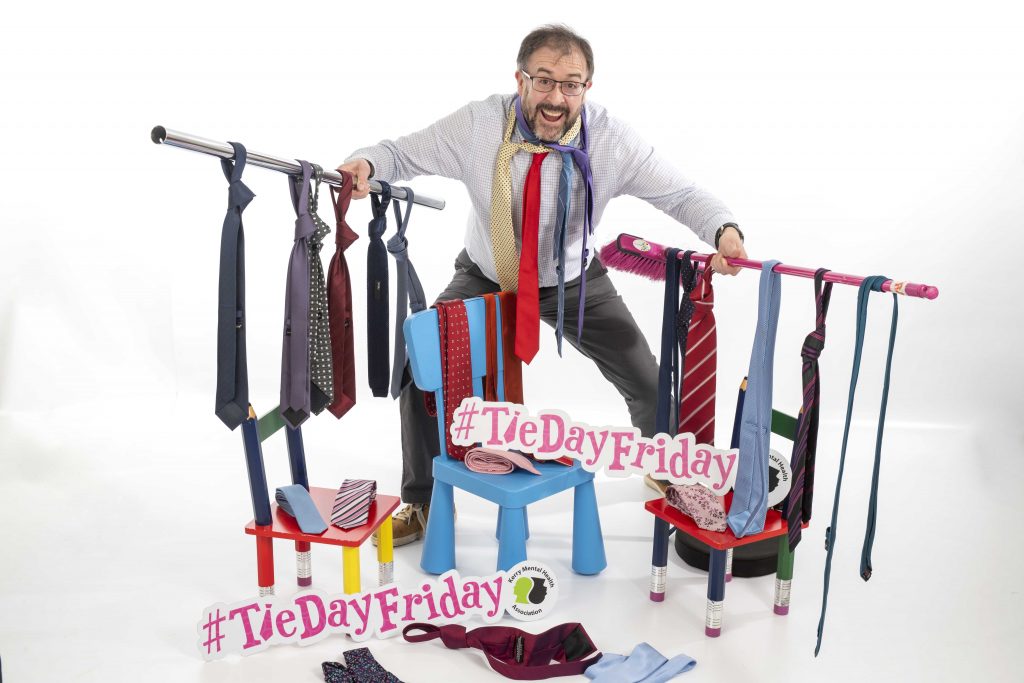 It's up to you to set the amount to be donated while it will be great fun to see how many different ties will appear on social media on #TieDayFriday.
Most people feel good about themselves when they dress up for an occasion and there's hardly been a need to dress up, let alone wear a tie, over the past two years due to the pandemic restrictions.
Kerry Mental Health Association are grateful to Celsius Menswear in Tralee for lending their support again to #TieDayFriday 2022.
Anyone who wishes to get involved or organise an event to support the project can contact John Drummey on 087 7909487 or email [email protected].