Friday, April 23rd 2021 is Tie Day Friday when Kerry men, women and children everywhere are asked to wear a tie, post a picture or video on social media and make a donation to Kerry Mental Health Association.
All proceeds raised will go towards supporting the befriending and other mental health promotional activities undertaken by Kerry Mental Health Association.
The General Manager of Kerry Mental Health Association, John Drummey, said: "Most people feel good about themselves when they dress up for an occasion but there's hardly been a need to dress up, let alone wear a tie, over the past year due to the pandemic restrictions. It would be great fun to see how many different ties will appear on social media on #TieDayFriday as we all help make a difference to the lives of many people in our communities."
The nine Branches which make up Kerry Mental Health Association pursue befriending and support activities to enrich the lives of neighbours and friends in our communities who are living with mental health challenges.
Their fundraising and befriending activities were seriously curtailed by Covid-19 and the Branches were unable to hold any annual church gate collections or flag day events for over a year.
Kerry fashion experts Don O'Neill and Orla Diffily have been joined by RTÉ GAA Commentator Marty Morrissey, Chef Paul Treyvaud, Champion Jockey Oisín Murphy from Killarney and Radio Kerry Presenter Andrew Morrissey to promote #TieDayFriday.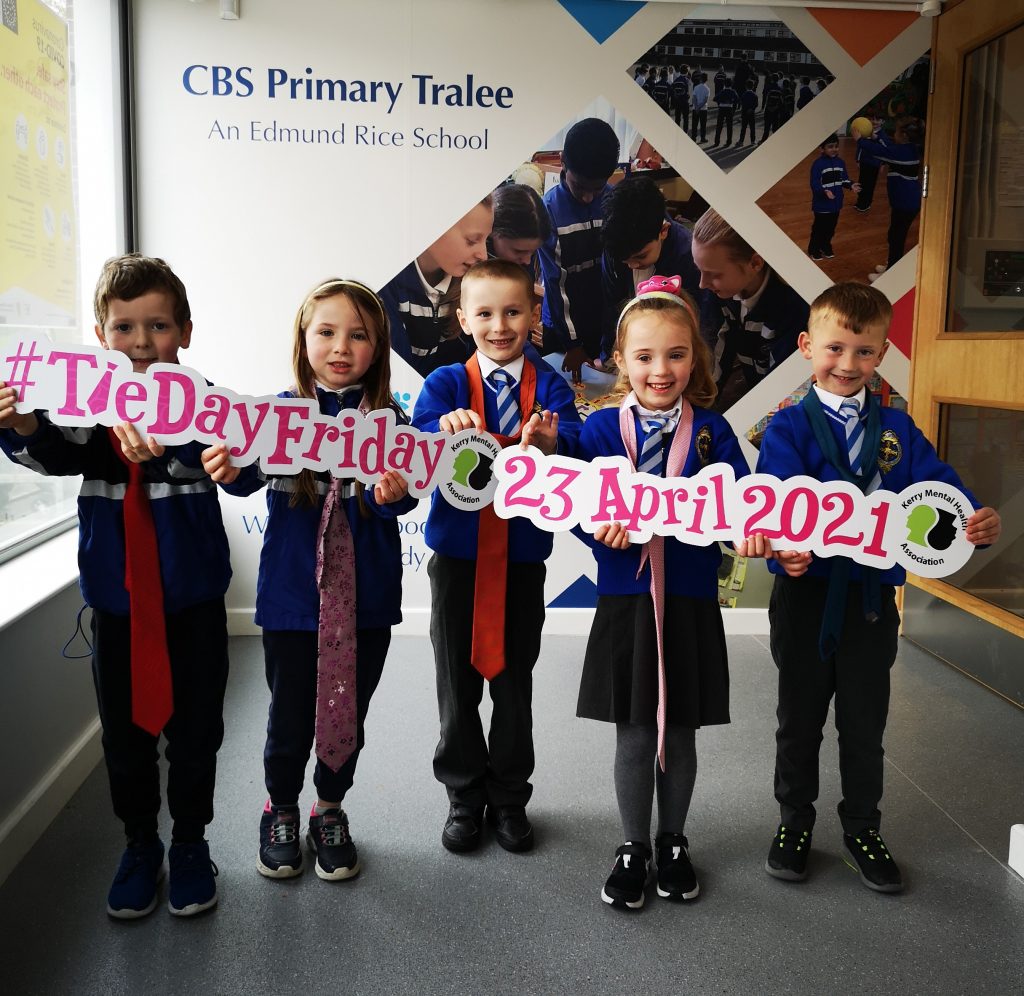 Local businesses who might have a video meeting scheduled for this coming Friday 23rd April are encouraged to show up on camera wearing a tie that they would be unlikely to wear anywhere else.  It doesn't matter if people are working from home or at the office because they can still wear a tie and post a photo or video online.
Many schools have kindly agreed to waive their rules allowing pupils to wear a different tie with their uniforms, and if a tie isn't part of the uniform already, wear one anyway – even to a virtual classroom.
The "tie's the limit" as to how you can get involved on #TieDayFriday 23rd April 2021 which is proudly supported by Celsius Menswear, Castle Street, Tralee.
Donations to Kerry Mental Health Association can be made via the link on www.KerryMentalHealth.ie/Donate. For more information about #TieDayFriday, email [email protected] or find us on Facebook and Twitter.