KERRY Mental Health Association Iveragh Branch has presented a new people carrier vehicle to the Fertha View Day Centre in Cahersiveen to provide services users with easy access to appointments and outings.
The 'bus' costing over €50,000 was financed through funding support from the Helping Hand Charity Shop and annual bucket collection in Cahersiveen and a contribution from Kerry Mental Health Association central funds.
The Chair of the Kerry Mental Health Association Iveragh Branch, Jackie O'Sullivan, said: "It's a pleasure to hand over this much needed bus to our local day centre. It will provide a wonderful amenity for the services users throughout the peninsula. The size of the vehicle means the staff can drive it, taking away the dependence of requiring the availability of a driver which was the previous situation."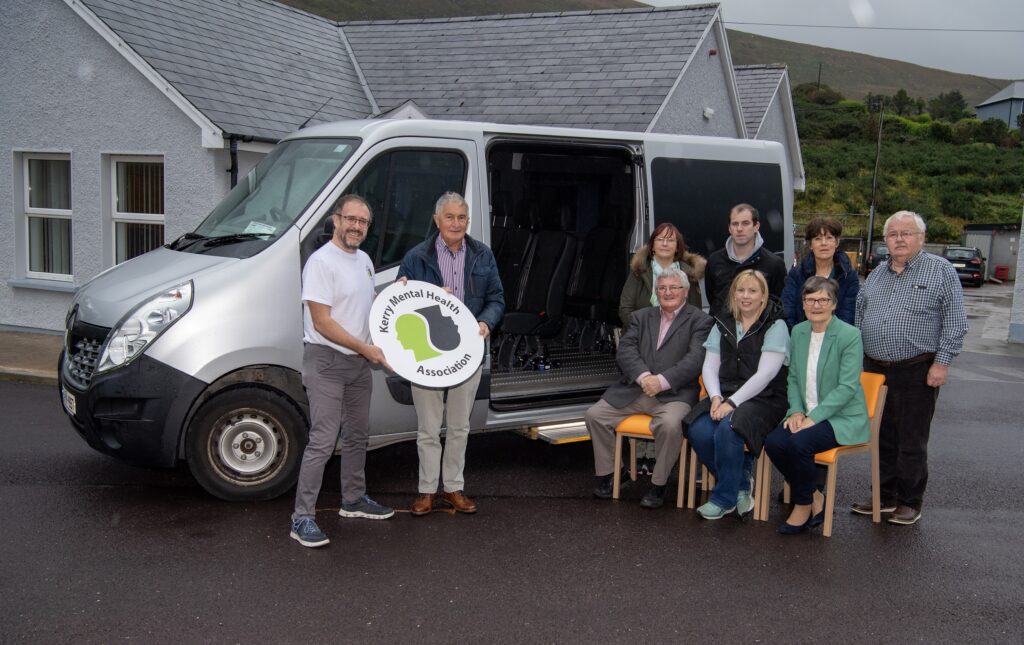 The committee members in the Kerry Mental Health Association Iveragh Branch have expressed their sincere gratitude to all the volunteers and staff who made it possible and they wish the service users many years of safe travels.
They also thanked Mike Gallagher for pointing them in the direction of Wheelchair Cars Ireland from where the 'bus' was purchased.
The General Manager of Kerry Mental Health Association, John Drummey, said: "Congratulations to all the volunteers in our Iveragh Branch for their time, focus and energy. They should be very proud of this achievement which will benefit so many people in the south Kerry area. While respecting the privacy and dignity of the services users, we understand that it's good for people to see that their donations are being invested in the wellbeing of others in the community. We are grateful to Lucy, Niamh, Lindsey and all the staff in the Fertha View Day Centre for their support"
Kerry Mental Health Association is preparing for a number of events over the coming weeks to coincide with World Mental Health Day on 10th October.
Limited tickets are still available for the fundraising breakfast with Kerry Captain, David Clifford and Mayo footballer, Pádraig O'Hora on #TieDayFriday 6th October in the Great Southern Hotel, Killarney.
Book now at www.KerryMentalHealth.ie/breakfast with the proceeds going towards funding the cost of rolling out FREE and affordable mental health first aid training in Kerry.
The Human Chain Challenge on Strickeen in the Gap of Dunloe takes place between 9am and 12pm on Sunday 8th October with registration taking place at www.KerryMentalHealth.ie/human-chain-challenge.
Miss Kerry 2023, Leah Galloway, is hosting a fundraising Coffee Morning at the Lakeside Café in Tralee Bay Wetlands from 11am to 1pm on #TieDayFriday 6th October.
The Kerry Mental Health Association Kenmare Branch is also hosting a coffee morning in the Wander Inn, Kenmare on #TieDayFriday 6th October.
Two Mental Health First Aid Courses, which will take place simultaneously in Tralee and Killarney on 12th and 13th October, are fully booked with more to follow before Christmas.
To make a donation to Kerry Mental Health Association, visit www.KerryMentalHealth.ie/donate.